Backpacking Locations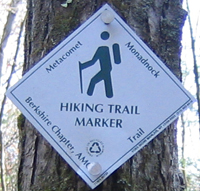 One of the trail markers Troop 54 passed on the "M & M" while backpacking through Wendell State Forest (November 2009).
Area Trails
A few of the more major, well-marked and closer trails in our area:
Midstate Trail - This Massachusetts north/south trail runs from New Hampshire to Rhode Island, passing quite close to Worcester (right through Treasure Valley Scout Reservation).
Metacomet-Monadnock Trail - Often referred to as the "M and M Trail", this trail runs north/south a bit further west than Worcester. Several trail segments connect a series of trail shelters.
North South Trail - This Rhode Island trail runs north/south, meeting up with the Midstate Trail at the Massachusetts border.
Bay Circuit Trail and Greenway - A permanent recreation trail and greenway corridor extending through 34 towns in Eastern Massachusetts and linking the parks and open spaces surrounding metropolitan Boston, including 180 miles of trail.
Other area trails:
Backpacking camp sites:
Page updated 4/1/17
J. Froimson