Summer Camp 2018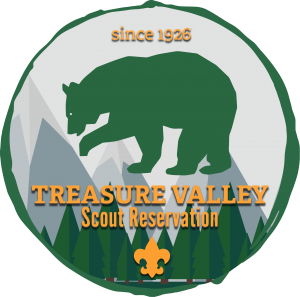 Sunday, July 15 -
Saturday, July 21, 2018
Treasure Valley
Rutland, MA
Event Description
Troop 54 will attend summer camp at Treasure Valley Scout Reservation, a summer camp we last attended in 2015. This is our own Mohegan Council's camp. We are attending Week 3, which runs Sunday, July 15 through Saturday, July 21. We will camp in the Madore site. Our Scouts will stay in two-man canvas wall tents on wooden platforms; each Scout will have a canvas cot. Meals will be served under a large tent next to the East Lodge.
2018 Leader & Parent Guide - describes many aspects of camp.
Camp Web Page - Includes pictures of the program areas.
Registration
Program
Activities at camp include merit badge sessions, patrol activities and camp activities (such as camp fires).
Merit Badge Schedule - Scouts should use this list to see what merit badges are offered (and when) in order to select which ones to take. There are usually opportunities to to earn an additional merit badge or two, in addition to the ones in this schedule.
Badges earned during Summer Camp will be presented at a Court of Honor in September.
This camp does not have a family visiting event.
Packing
See our summer camp Packing List. To emphasize a few items to bring:
Full uniform (shirt, pants, socks, neckerchief, neckerchief slide, hat, belt) - we will wear these daily for evening meals and assemblies.
Drink mix packets - everyone needs to avoid becoming dehydrated. If you have difficulty drinking water, bring something to mix into it.
Flip flops - to wear in the shower. It is probably a good idea not to touch the floor.
Mosquito net - see our page for details.
Trading Post
The Post is the place where campers can shop for things they need (e.g., Scout socks they forgot to pack) or want (e.g., ice cream bar, pocket knife). Campers can bring money to spend at The Post. In addition, parents can get a gift card for their Scout. For details, see the Post's web page.
Travel
Departure - We will meet at Epworth at 11:00 AM on Sunday to pack our gear into the trailer. The drive to the camp takes about 25 minutes, so we will leave Epworth at 11:35 AM to arrive at the camp at 12:00 PM. Have lunch before coming to the church or bring a lunch to eat there. Our first camp meal will be dinner.
Late arrivals at camp - Advise the Scoutmaster in advance. The troop is expected to show up together.
Return - We will return to Epworth between 10:00 AM and 12:00 PM on Saturday.
Page updated 6/24/18
J. Froimson