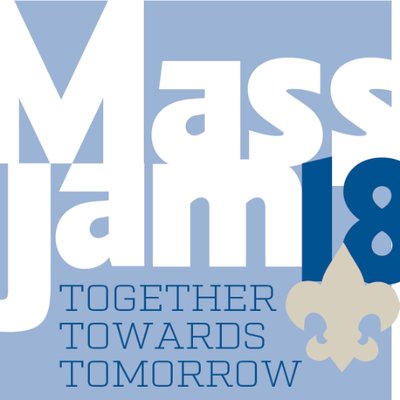 Saturday, October 6 -
Monday, October 8, 2018
Cape Cod Fairgrounds
East Falmouth, MA
Event Description
MassJam 2018 is a multi-council event which currently expects 6000 Scouts from around our region. With several "Action Centers", exihibits, displays, evening programs and two nights of camping, this should be lots of fun!
This event requires careful planning. Some of the key logistics:
We need to bring everything for a complete campsite set up on a field.
To reduce traffic, MassJam has implemented key restrictions:

No visitors to the event
No coming and going during the event
Only the vehicle pulling the trailer can (briefly) go to the site.

Our camp site will be a hike from where the cars get parked.
We need to bring food to prepare for the whole weekend (3 breakfasts, 3 lunches, 2 dinners).
For more information about MassJam, see:
This trip is open to Boy Scouts and Webelos Scouts (Webelos and AOL dens).
Registration
Packing
See our Personal Camping Gear page for a check list and descriptions of most of the items needed. Personal gear can be packed in a backpack, zipper bag or tub as we will be not be hiking a significant distance with the gear. Specific items to bring:
Full uniform (as for just about any event) - wear this.
Water bottle.
Day pack.
Spending money - There are concessions at the event for food and souvenirs.
Travel
Meet at the Epworth United Methodist Church parking lot at 6:00 AM Saturday for departure by 6:30 AM. This early departure is needed to allow us to complete campsite setup by 11:00 AM.
Travel from the church to the Cape Cod Fairgrounds is about 1 hour and 30-50 minutes.
We estimate departure from the fairground and parking areas at 11:30 AM and a return to the church at about 1:30 PM.