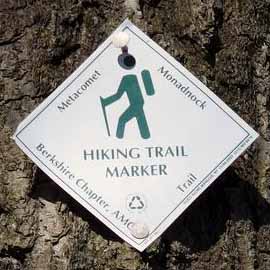 Troop 54 hiked Section 14 of the former Metacomet-Monadnock trail for our first time since 2010. We had four By Scouts and three leaders participating in this trip; this was a first backpacking trip for all of the Scouts!
The trail blazes were already painted over with brown paint the last time we hiked to the Mosher Shelter, on land owned by the Rattlesnake Gutter Trust. Since then, a new home had been built near where this trail left the road, causing us to lose the trail for a bit. As we approached the area of the shelter, we had to do some bushwhacking to find the remnants of that side trail, part of which had been the M-M Trail at some point. Fortunately in both cases, we had the GPX track from our previous trip. We were relieved to find that the shelter was still there.
We hiked 5.3 miles the first day (not counting the search for the side trail) and 4.7 miles the second day (both included a "scenic detour"). See our actual trail as recorded by Joshua Froimson:
My Maps - map uploaded into Google My Maps
GPX file
The weather was really good for the trip, with no rain at any point. For most of us, our water held out until we got to the shelter. The nearest water source was Mountain Brook, about 0.4 mile away. Two trips to fill a flexible five gallon water container were just enough to cover our needs and refill for the hike back.
An amazing point about this trip was how isolated it was, given our location in Massachusetts. From the time we left the road to really hit the trail, we didn't see a single person. The shelter site was pretty quiet, maintaining that "out in the middle of nowhere" feeling.
The Fletcher Privy was still there as well, which makes this one of the more luxurious trail shelters. Judging by the degree of overgrowth and the site conditions, it appears that this shelter is primarily used by snowmobiliers these days. Not much is left of the picnic table, so we used our lightwieght stoves on the ground for boiling water.
The youth were able to fit into the shelter, using only the mesh part of their tents to keep the bugs out. The adults each pitched small tents.
Everyone managed to avoid any trail food requiring cooking, so we were able to keep most of our many trail breaks fairly short. In camp, we had a variety of meals involving different levels of cooking, from an MRE to cooked pasta. The Scouts chose to make pancakes for breakfast, which they cooked one at a time on a mess kit pan.
This was our one hundred fourteenth consecutive month with at least one overnight camping trip.