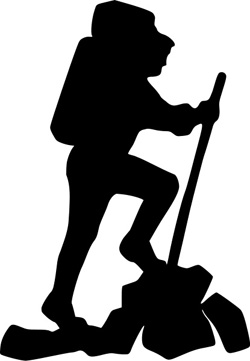 Troop 54 traveled to Treasure Valley Scout Reservation in Rutland, Massachusetts for our March camping trip. With temperatures projected to be well below freezing for the weekend, we had shortened the hike to stay within the scout reservation. The troop camped at Fort Courage, a "leave no trace" site we have not used before.
Scouts Kevin Froimson, Xavier Parker, Khoi Pham and Derek Tempesta braved snowy trails to get to the camp site. This was Khoi's first backpacking trip. The participating leaders were Joshua Froimson, Keith MacNeal and David Goodrich.
With the ground too frozen for tent stakes, we had to atach our tents to the snow using snow stakes. These were easy enough to set up in the slush on Satuday but required chiseling out on Sunday morning after a night of below-freezing temperatures.
During the day, the Scouts walked around on the frozen Browning Pond, and we crossed all the way over to visit the Boy Scout summer camp waterfront area. We backpacked about 3.5 miles the first day and 1.6 miles the second day.
View our actual trail, as recorded by Keith MacNeal's GPS (GPX File MappingSupport)
This was our troop's sixty-third consecutive month with at least one overnight camping trip.