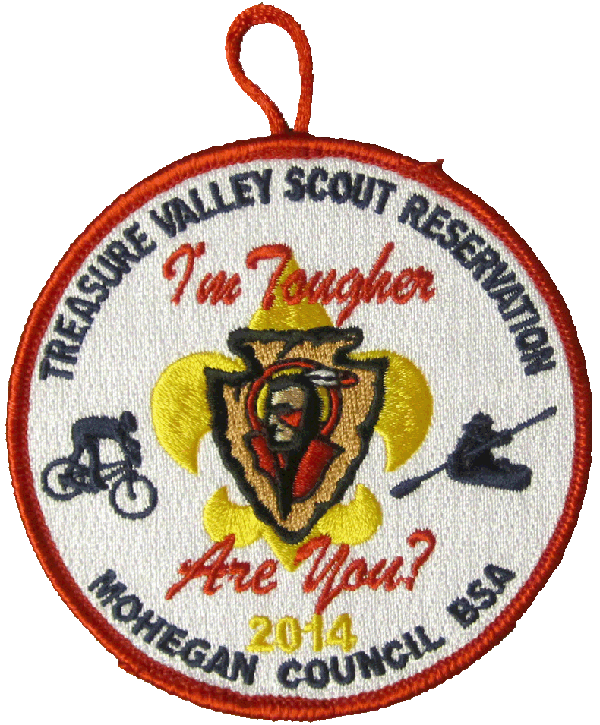 Troop 54 returned to Treasure Valley for summer camp in July, staying at the Baden Powell site. This proved convenient, as it was right next to the ranges (archery, rifle and shotgun). The theme this year was "Are You Tougher". We had seven Scouts and three leaders participating.
There were 10 troops in camp during our week. The other troops:
Troop 37 at Pine Acres
Troop 53 at Chippewa
Troop 121 at Evergreen
Troop 238 at Hemlock
Troop 151 at Sleepy Hollow
Troop 227 at Hickory
Troop 273 at Hi Mesa
Troop 142 at Tall Maples
Troop 155 at T-Bird and Madore
This year's Program Director was Charles Flannery. Stephanie Keimig announced that this was her last year as Camp Director.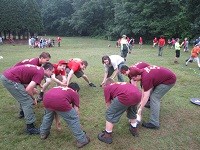 Troop 54 Scouts participate in the Magee Games.
Our two newest campers participated in Brownsea Island Adventure, the first year camper program, earning the coveted pocket patch.
Troop 54 participated in the annual Magee Games on Tuesday. The games included such activities as We had fun but did not place.
A camp-wide game called "Are You Tougher" was held on Thursday afternoon, having been elayed from Wednesday due to weather. Keith MacNeal and Joshua Froimson participated on the "Old Goats" (adults) team. Peter Servatius, Derek Tempesta, Gavin MacNeal and Kevin Froimson competed on the "Young Gunz" (youth) team. The Old Goats beat the Young Gunz iby coming out on top in 12 of 16 activities. Gavin MacNeal won the Tournament of Champions competition in Archery, another annual competition.
Our Scouts earned 18 merit badges and two rank advancements during camp, as well as two Totin' Chip cards and one Firem'n Chit card.
Troop 54 members were singled out during the closing campfire for their excellent participation at the Safety program area and the Archery range during the week. By the end of the week , six of our ten participants had passed the BSA Swimmer Test.
As all of our eligible members are already members of the Order of the Arrow Lodge, we did not have anyone tapped out this year during the closing ceremony.
This was the troop's sixty-seventh consecutive month with at least one overnight camping trip.