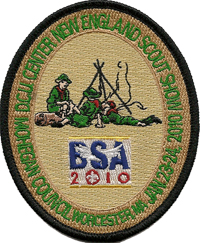 First Centennial New England Scout Show
Saturday, January 23
and Sunday, January 24, 2010
DCU Center
Worcester, MA
The Scout Show was quite an event. It kicked off a year of celebration in Mohegan Council of 100 years of Scouting. Nearly every youth member of our troop participated.
Hundreds of booths kept some of our Scouts at the event all day. The clmbing walls and shooting sports had decent lines most of the time, and several Scouts sought the hand-outs provided by many of the booths, including such items as Centennial neckerchief slides, book bags and flashlights. Many Scout units provided fun activites, such as a soap box derby, canoeing on concrete, making bluebird houses, and learning knots and lashings.
Troop 54 put on a booth about backwoods camping skills, with tables on methods of water purification and on lightweight stoves. Our home-made alcohol stoves seemed to draw the most interest.


Photos by: Joshua Froimson, Keith MacNeal and Paula MacNeal.