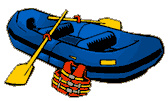 Troop 54 made our third rafting trip to the Deerfield River. We camped two nights at Mohawk Trail State Forest in Charlemont, MA and rafted with CrabApple Whitewater. The group site was comprised of three individual sites, had a water tap right in the site and was near the camp dish washing station.
We had six Boy Scouts, one Webelos Scouts and three adult leaders participating on this trip.
It was a bit cool during the day and got down into the 30's overnight. Haveing another trip without rain was nice, especially during camp setup in the dark that first night.
For the rafting, the the older boys and Mr. MacNeal did the Monroe Bridge Section, featuring rapids up to Class IV. The rest of us did the Fife Brook Section which had Class I, II and III rapids. The Fife Brook trip included swimming, a water fight among the boats (with buckets) and a picnic lunch along the way. The Monroe Bridge trip featured a higher adventure level and had a barbacue meal back a the CrabApple facility. On each section, we were rafting with members of Troop 105 of Paxton.
While at the camp site, two of our Scouts worked to earn their Totin' Chip. At the end of our camp fire, we retired some flags.
This was the troop's seventy-seventh consecutive month with at least one overnight camping trip.