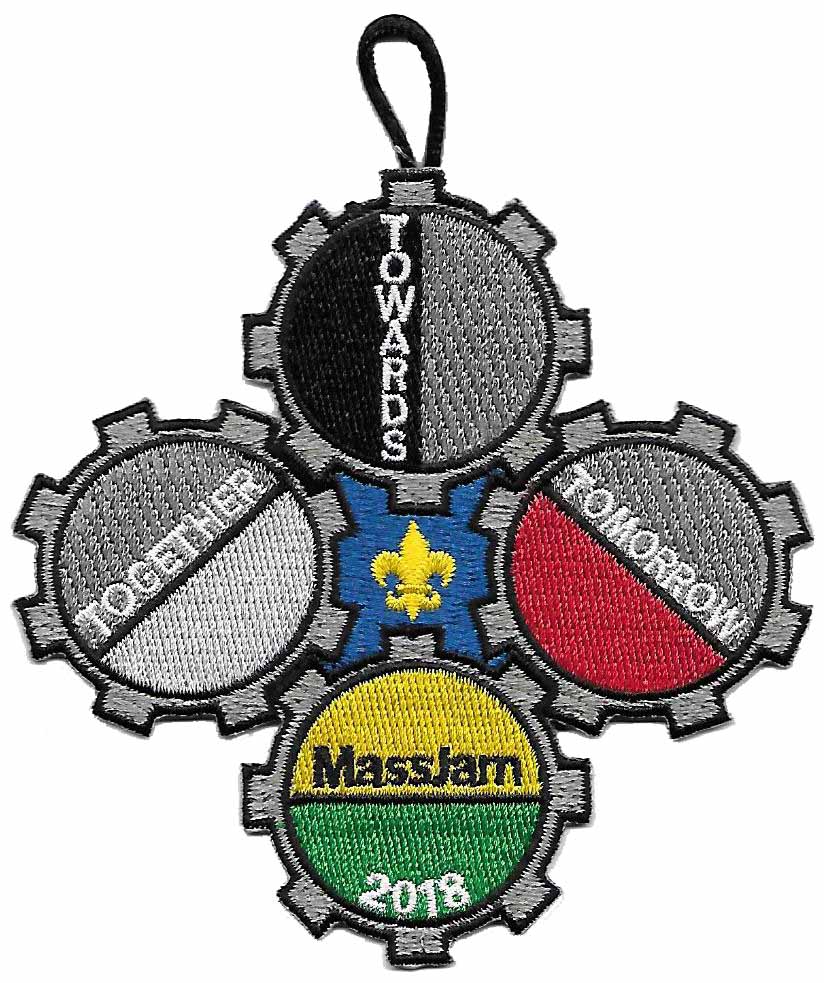 The first MassJam was held in 1985. Troop 54 participated in 1994, 1999, 2003, 2008, 2013 and now, 2018. MassJam is the largest of the events we have attended, at least in recent years.
We had nine Scouts and three leaders participating in this event.
The weather was pretty good, the only rain ended the Sunday night movie early in Sub-camp 3, but it was minimal enough that the fairgound didn't get all muddy. For the most part, our Scouts travelled around in their two patrols, which were almost equal sizes.
We were a "small contingent", qualifying us for a 25x50 foot site. Even with six tents and three cooking areas, we were able to put together a workable camp.
There were several "activity stations" and a midway with some STEM-themed demonstrations and activities. Our Scouts tackled the climibing walls, the National Guard obstacle course, and the shooting sports area. Their favorite station was bottle rocket launching; it involved pumping up a soda bottle filled with water (and yes, they got pretty wet).
SM Froimson was awarded his first two Wood Badge beads at the event. Dozens of the other students and staff of Wood Badge Course N1-546-17 were at MassJam and made it to the sub-camp for the ceremony, along with the whole Troop 54 contingent.
Country musician Jessie Chris performed evening shows each night (we didn't all fit in the amphitheater at the same time). Once again, this was a well-organized event, with planning starting years in advance and several councils running it. Even the religious service was good; we went to the all faiths service. Imagine the thousands of participants breaking camp at the same time and getting to their cars to leave. This process went really well, with our equipment vehicle hitting the road at 9 AM on Monday.