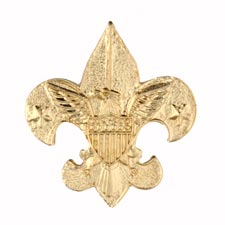 Friday, April 24 -
Saturday, April 25, 2009
Treasure Valley
Scouts who just crossed over work on the skills necessary to obtain the Tenderfoot, 2nd Class, and 1st Class ranks. This year, our participation at the event is limited to Saturday, April 25. Other troop members at Treasure Valley should participate in the Beaver Day or the Order of the Arrow event. A few of us will be running one of the stations at Trail to First Class.
Camping the night before is optional. We won't have our camp site assignment until that Friday (ask at the camp).
Registration Fee:
Scouts working toward 1st Class: $10
Adults: $5
Council Information:
Event Manual
Registration Forms - each Scout attending needs to complete and submit a copy of the Scout Registration Form before the event.
Travel There:
If you plan to carpool on Friday, meet at the Immaculate Conception Church parking lot at 6:00 PM for departure by 6:15 PM.
Scouts travelling together on Saturday meet with Beaver Day participants at the church at 7:00 AM to carpool.
If you plan to travel to Treasure Valley separately, let the Scoutmaster know when you plan to arrive.
| | |
| --- | --- |
| Page updated 4/22/09. | |