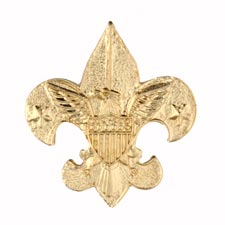 Friday, April 25 -
Sunday, April 27, 2008
Treasure Valley
Scouts who just crossed over work on the skills necessary to obtain the Tenderfoot, 2nd Class, and 1st Class ranks. The rest of the troop mans stations to teach the new scouts. Troop 54 is running the stations for knots and lashings. We'll be setting up a monkey bridge as a demonstration.
Registration Fee
Scouts working toward 1st Class: $15
Scouts helping to run stations: $6
Adults: $10
See the council information packet. All scouts (even the older ones) need to hand in a signed copy of the form on Page 2 of this packet. We won't have our site assignment until that Friday.
Travel There
If you plan to carpool, meet at the Immaculate Conception Church parking lot at 6:00 PM for departure by 6:15 PM.
If you plan to travel there separately, just let the Scoutmaster know when you plan to arrive.
| | |
| --- | --- |
| Page updated 4/24/08. | |