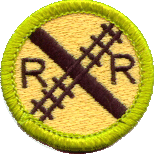 Saturday, December 6 and
Sunday, December 7, 2008
Marlborough, MA
This event, which is free to Scouts in uniform, includes a Merit Badge Clinic for Railroading Merit Badge.
Notes from Troop 54 on the Merit Badge:
Any Scout planning to work on the merit badge first needs to get a signed blue card for the badge from his Scoutmaster.
Notes from the organizers on the Merit Badge:
Their plan is to offer the merit badge on both days. There is no set time to start since the badge is done in an individualized manner. Most scouts take about 4-5 hours to complete the badge since they must build a freight car (they supply the kit), visit several layouts to see the different types of trains and scales and talk to train operators. In addition, they must learn about RR operations, safety issues and passenger schedules.
Scouts need not bring anything but it would be helpful if they have the MB booklet and at least read it before coming to the show. There is a lot to cover in a short time but it is doable and the scouts have fun in the process.