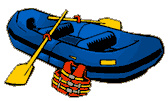 Friday, May 26 -
Sunday, May 28, 2017
The Forks, Maine
Event Description
No one registered for this trip by the deadline of April 18, so this trip is cancelled. An alternate trip, a camporee the weekend of May 12-14, has been posted.
Troop 54 will go rafting on the Kennebec River in Maine with CrabApple. We will have a Friday evening departure and Sunday afternoon return to keep Memorial Day itself open (Troop 54 is serving as a color guard that day). This run features Class III-IV rapids, has a minimum age of 10, a length of 12 miles and 3-4 hours on the river. For details on the rafting, see their trip description. We plan to camp at a primitive youth group camping area provided near the CrabApple office.
This trip is open to Boy Scouts and Webelos/AOL Scouts.
Registration
Permission Slip - Each participating Scout must submit this to his Scoutmaster by May 16. An online permissin slip will be posted after April 18.
A CrabApple Rafting Liability Waiver will be required and will be posted later.
Annual Health and Medical Record - Each participant must have submitted this record to his Scoutmaster within the previous year and no later than May 16. This trip requires only Parts A and B, including copy of insurance card (both sides). A medical exam is not required.
CORI - Adults staying overnight must have submitted a CORI to the Mohegan Council within the last year. If you need this, please submit it to your Scoutmaster by May 16.
Youth Protection Training - Adults staying overnight must have completed BSA Youth Protection Training within the prior two years. If you need this, submit your training certificate to your Scoutmaster by May 19.
Vehicle Information - If your vehicle information has not been included on a previous tour permit, please provide this to your Scoutmaster by May 16.
Cost: $91 per person. $71 is due at registration. The remaining $20 is due by May 16.
online initial payment onlline final payment
The rafting operator has a cerain number of people they can send down the river each day. At the time this was first posted, there were sufficient spots available. The only way for us to "reserve" a spot is to pay for it in full. Given the very long drive, we have set a minimum total participation of 6 people for this event to actually happen. We will make that determination based on paid registrations on April 11. If we have insufficient registrations, we may extend this deadline by one week. Fees paid will be refunded in full if this trip is replaced with another trip.
Once the Troop does make an initial reservation, additional participants can sign up for the trip until May 16, provided that CrabApple still has capacity and provided that we still have spaces in the vehicles going on the trip.
Packing
Use our Backwoods Camping List to make sure you don't forget anything. See other camping information on our Camping page.
Travel
Troop 54 will meet at the Epworth United Methodist Church parking lot at 3:30 PM Friday for departure by 4:00 PM.
Travel to the CrabApple campground is expected to take about 5-1/2 to 6 hours, including a brief stop for dinner.
On Saturday, we will drive to and from the CrabApple office location, approximately 3 miles one way.
Estimated return to Epworth is 4:00 PM Sunday.