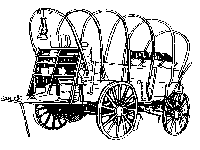 Friday, May 9 -
Sunday, May 11, 2008
Treasure Valley
Troop 54 is running Camptown and Pinederosa Town at this event for Cub Scouts. We want a strong presence so we can let the Webelos know what we are all about. The Chuckwagon event runs on Saturday, May 10, 9:00 AM - 4:00 PM. The overnights are just for some Scout fun. Bring your best camping recipes.
Plan for Friday:
Meet at the church at 6 PM.
Carpool to Treasure Valley.
Set up camp.
Plan for Saturday:
Eat breakfast in camp.
Set up the "town" by 9:00 AM.
Run the town during the day.
Eat lunch, preferably in or near the town.
Prepare and eat dinner in camp. Show off those cooking skills.
Campfire - bring skits and songs.
Plan for Sunday:
Eat breakfast in camp.
Scouts Own service.
Break camp.
Use our Backwoods Camping List to make sure you don't forget anything.
For information on the event, see the Council's Info Packet