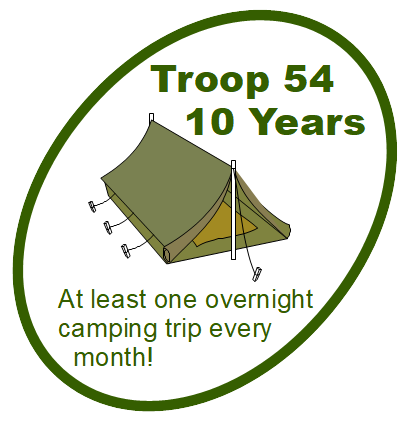 Friday, November 30 -
Sunday, December 2, 2018
J N Webster Scout Reservation
Ashford, Connecticut
Event Description
For this trip, Troop 54 returns to J N Webster Scout Reservation (our last visit there was in December 2012). We will camp in the Chipatachaug tent site. During the day on Saturday we will visit the Connecticut Science Center in Hartford, Connecticut.
This trip is a big one for us: after we survive the second night (which is in December), this will mark our 120th consecutive month with at least one overnight camping trip - 10 full years. Be part of our history.
This trip is open to Boy Scouts and Webelos/AOL Scouts.
Registration
Packing
See our Personal Camping Gear page for a check list and descriptions of most of the items needed. Personal gear can be packed in a backpack, zipper bag or tub as we will be not be hiking a significant distance with the gear. Specific items to bring:
Full uniform (as for just about any event) - wear this.
Water bottle.
Day pack.
Spending money (optional) - The science center has a gift shop.
Travel
Meet at the Epworth United Methodist Church parking lot at 6:00 PM Friday for departure by 6:30 PM.
Travel to J N Webster Scout Reservation is approximately 50 minutes.
Travel from the Scout camp to the science center is about 35 minutes each way.
Estimated return to the church is 12:00 PM Sunday.