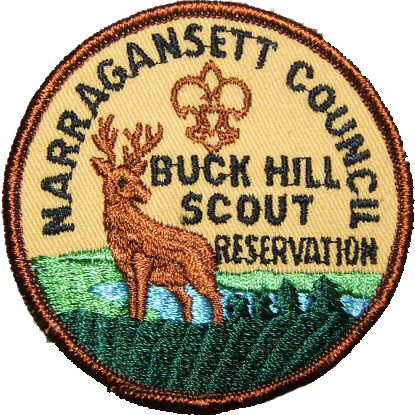 Saturday, August 26 -
Sunday, August 27, 2017
Pascoag, Rhode Island
Event Description
For our August trip, Troop 54 returns to Buck Hill Scout Reservation. We will day hike a section of the North South Trail, which passes through the camp. The Scouts can fish in Wakefield Pond at the camp.

This trip replaces our previously planned backpacking trip.

Participants should attend the planning meeting for the trip on August 22, 7:00-8:30 PM.

This trip is open to Boy Scouts.
Registration
Packing
Use our Backwoods Camping List to make sure you don't forget anything. See our Camping page for other camping information. You should pack your stuff in either an external frame or internal frame backpack (the big kind). A few specific items to bring:
Water bottle
Full uniform (as for just about any event)
Food - The patrol will provide 1 lunch, 1 dinner and 1 breakfast. Scouts bring your own snack food and drink mixes.
Fishing gear
Day pack packed with the ten essentials
Travel
Meet at the Epworth United Methodist Church parking lot at 7:00 AM Saturday for departure by 7:30 AM.
Travel to the camp is approximately 45 minutes.
Estimated return to the church is 12:00 PM Sunday.