Move to Epworth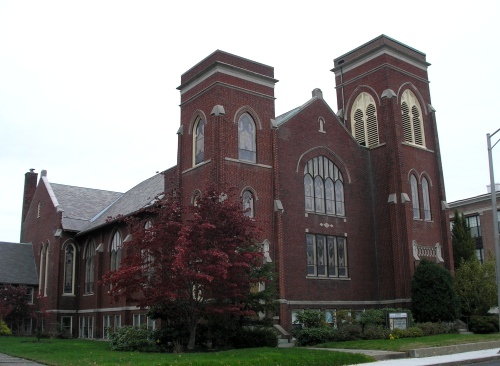 Epworth United Methodist Church
On January 17, 2012, Troop 54 moved from the Armenian Church of Our Savior (ACOOS) to Epworth United Methodist Church at 64 Salisbury Street in Worcester. Our stay at ACOOS was temporary (up to 2 months) from the outset. Our move to Epworth was facilitated by Keith MacNeal. Prior to this move, he was an Assistant Scoutmaster in Troop 54 and a longtime member of Epworth; he became our Chartered Organization Representative at the time of the move.>
Accordng to an article on Historic Buildings, Epworth was originally founded 1885 and moved to its current location, then new, in 1927.
Just months after Troop 54 moved to Epworth, a new Pack 54 was founded at Epworth by leaders of Troop 54; that unit has no lineage associated with the Troop's previous chartered organizations or with sending earlier Scouts to cross over to Troop 54.
For geographic perspective, Epworth is about 0.1 mile from ACOOS, both being on Salisbury Street.
| | |
| --- | --- |
| Page updated 1/23/17. | |