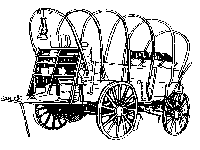 For this camping trip we returned to Treasure Valley Scout Reservation. The Chuckwagon Derby has been an annual event, either in the District or the Council, for many years. Cub Scouts pull wagons, decorated to look like chuckwagons, from "town" to "town" (stations run by Boy Scouts).
Troop 54 ran Skit Town for a second year. Our Boy Scouts taught each wagon a skit or run-on, and we ran the closing ceremony for the event.
We had nine Scouts, two leaders and one parent participating on this trip. Three of our participants were on their first Boy Scout camping trip.
For those of us who had been to Treasure Valley before, a couple of significant changes were hard to miss. The trees had been cleared on both sides of the road near the Baden Powell site and around the Benedict Lodge (formerly the Health Lodge) to create a couple of fields for activities. The area around the Life Lodge (formerly the old Trading Post), and the Arrowman Lodge (formerly called the Handicraft building) was also cleared of trees to enable the future creation of a softball field and larger basketball court.
One surprise upon our arrival at the Thunderbird site was that the water was not yet on in this part of the camp. That left us hiking over a mile to get water (good thing we had a wagon) and to visit the restroom.
There was a variety of camp cooking. The Scouts cooked BLT sandwiches and quesadillas (their favorite these days). The adults made chili for lunch and pasta with Italian sausage and fresh baked bread (in a Dutch oven) for dinner. We wrapped up with brownies, also baked in the Dutch oven.
The weather was close to perfect - not hot or cold, and it only rained overnight.
This was the troop's eighty-ninth consecutive month with at least one overnight camping trip.