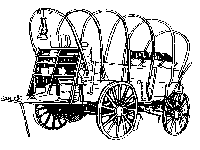 The Chuckwagon Derby is an event for Cub Scouts in which teams of Cub Scouts are organized around wagons. Each wagon travels from "town" to "town", each running a fun activity. Many of the towns are run by Boy Scout troops. Troop 54 ran "Disk Bowling" town. We had five Scouts, two leaders and two parents to run the station. The event was held at Treasure Valley.
During the event, the last unit to visit our town was Pack 54. Their wagon was pulled entirely under the kid power of their five participating Cub Scouts.
After the Chuckwagon Derby, Troop 54 and Pack 54 set up camp together at the Hickory site. With the camp almost ready for summer camp, we were able to sleep in the camp's canvas tents with beds a;ready in them.
Scouts Xavier Parker and Khoi Pham stayed for the campout. Our meals made a nice cooking demonstration for the Cub Scouts. For dinner , after an appetizer of sushi, we grilled marinated chicken on a charcoal grill, boiled broccoli and corn on the cob on a camp stove and baked a dump cake in a Dutch oven. For breakfast, we cooked bacon and pancakes on a griddle.
This was our troop's sixty-sixth consecutive month with at least one overnight camping trip, and this trip was the first of two for this month.