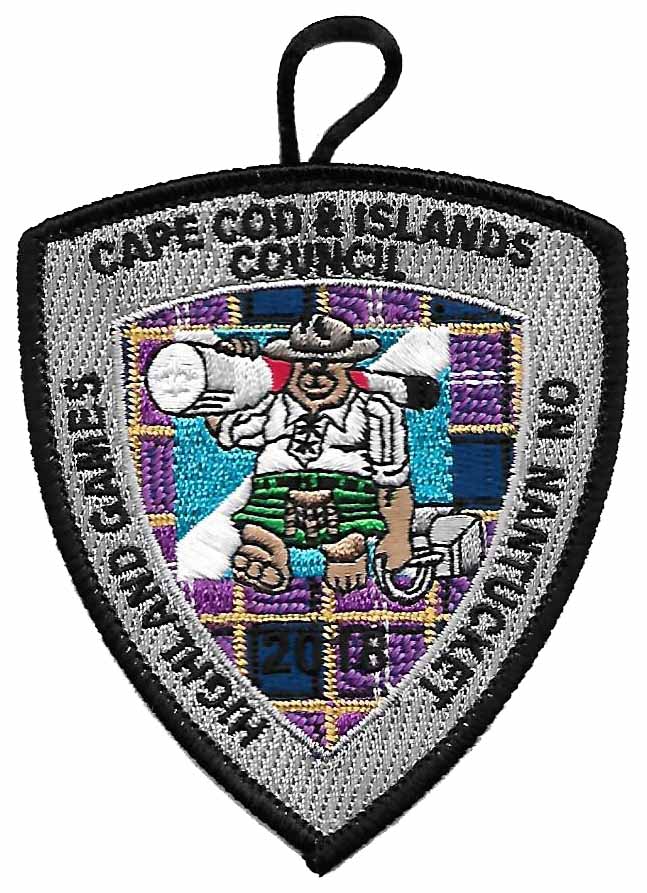 Our first camping trip this month brought us to Camp Richard on the island of Nantucket, our first time to the camp or the island and our first trip with a ferry ride, bringing us to our twenty-sixth Scout camp since 2006. The Highland Games Camporee was an event of the Cape Cod & Islands Council, put together by Jason Zinser and a team of several other Scouters, some of whom live on Nantucket.
The 2-1/4 hour ferry ride and the subsequent van ride to the camp got us to our site at close to 11:00 PM, so we finished setting up our simplified camp at about midnight. This camp is increadibly flat, with grassy areas that made tent camping more comfortable than the usual rocks and roots. We shared Site 3 with another troop. We had seven Boy Scouts and three leaders in our contingent on this trip.
Each parol was a "clan" at this event, so everyone wore a kilt for the weekend. Paul MacNeal had sewn a set for our contingent, along with a nice flag to display our clan's coat of arms.
Most of Saturday was devoted to the Highland Games: Caber Toss, Clachneart (stone put), Braemer Stone (stone put), Sheaf Toss, Battle Axe Throw (tomahawk throw), Farmers Walk, Recurve Bow, Fire Starting / Cooking, Flodh Gearradh (bucksaw), Cairn Construction, Tug of War, and Wellie Toss. All of the games showed the extensive effort the organizers had put into designing and constructing this event. Our leaders helped run the Sheaf Toss. See some videos taken by Keith MacNeal.
For dinner on Saturday, the OA lodge put on a great dinner buffet, featuring a pig roast. They had grilled sides, salad, and cornbread. Each clan made a Dutch oven dessert; ours was a chocolately creation that we ended up eating with breakfast on Sunday.
At the campfire, first place awards were presented for each of the games - giant trophies, most of which were won by one troop. Troop 54 didn't win anything this time, but we had fun.
The event had about 250 Scouts and 60 leaders participating. At the conclusion of the camporee, we were led by bagpipes on a 2 mile hike from the camp to the ferry. See our actual trail.
All of the logistics were impressive. Propane cylinders were provided to each of the troops. The organizers provided trucks to bring the gear back to the ferry, one of which took the ferry and then unloaded at Camp Greenough on Cape Cod. After we loaded up our vehicles at the Steamshop Authority parking lots, stopping at Camp Greenough to get the gear was a short drive on the way home.
This was the troop's 113th consecutive month with at least one overnight camping trip.
Videos by Keith MacNeal