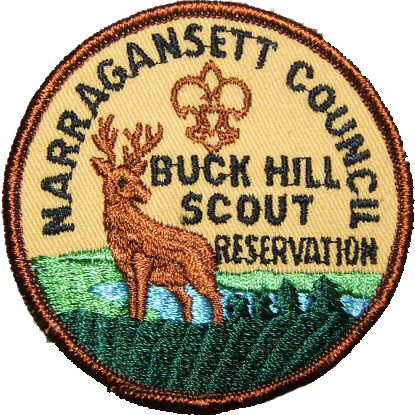 For our first time since 2013, Troop 54 returned to Buck Hill Scout Reservation in Pascoag, Rhode Island, one of several Narragansett Council camps. We stayed at the same site as last time, Buck Hill Circle, but the site had been upgraded in 2015 to now have a hard shelter with concrete pad and electricity for cooking and eating. Water was available right in the site.
We had two Boy Scouts and two leaders participating on this trip.
The main camp area was used only by our troop and one Cub Scout pack, we never actually saw them. Still, the camp was not quite as peaceful as you would think. The lake is not private (not entirely enclosed by the camp), so there were a lot of motor boats and Jet Skis on the pond in the afternoon.
The weather was perfect - not a drop of rain and temperatures in the 60's and 70's.
We hiked trails in the Scout Reservation during the day on Saturday. Unfortunately, the area to the south of the pond has been invaded by off-roaders. This meant our hike was accompanied by the chainsaw- like noise of Jeeps ripping up inclines in the distance. As usual, we started picking up trash we encountered on the trail and soon filled the six grocery bags we had with us. We could easily have filled another fifty bags with cans and bottles.
Rhode Island is a relatively flat state, so the hiking was pretty easy. A surprise toward the end was the Orange Trail taking us down a steep decline, almost a slide on loose rock, which one Scout rated as "awesome". With the Pond running right to the state border, our hike briefly took us into Connecticut. Our total distance hiked was about 5.9 miles. See our actual trail.
The Scouts also tried some fishing on Saturday and Sunday. This was pretty convenient, since our site was almost right next to the large Wakefield Pond.
Our spaghetti and meatballs/meat sauce (homemade meatballs and sauce) was really good, as were the breakfast tacos. The Scouts learned that for making meatballs, you don't want frozen ground beef.
This was the troop's 104th consecutive month with at least one overnight camping trip.