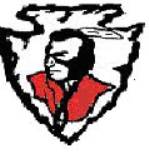 Troop 54 returned to Treasure Valley Scout Reservation for our September camping trip in the High Mesa site. After getting a late start, we set up camp in the dark (as usual). This site had been the beneficiary of some improvements over the last two years. The pit latrine was completely re-built, the hard shelter had a new tin roof and solar power provided night time lighting.
We had three youth participants and four adult participants from the troop.
Activites in camp included camp craft (lashings) and working on fire starting skills. The weather was ridiculously nice, with most of us wearing T-shirts for the weekend and barely a drop of rain hitting us in camp.
From Saturday afternoon to Sunday morning, the troop was joined by members of Cub Scout Pack 54. Saturday afternoon, members of the Troop and Pack toured parts of the East Camp.
Since this was a "car camping" trip, the cooking was a bit more involved than during some of our trips. The Scouts' meals included a Jambalya recipe and Quesadilas. The adult meals included Schlachtplat (traditional autumn German feast), Southwest Omelet and Green & White Chicken Chili.
At the camp fire on Saturday evening, the Cub Scouts performed a song to satisfy a requirement for an adventure (the new name for an achievement). The Boy Scouts performed a skit. The camp fire was closed out with a flag retirement ceremony, finally catching the troop up on its once huge backlog of flags to retire.
After the Cub Scouts departed on Sunday, troop members headed out on a day hike to look for remnants of summer camp facilities in West Camp. We did find the shower house, the rifle range and two camp sites not used for summer camp since a tornado hit the camp in the 1970s. While there, we decided to hike to Sampson's Pebble, a glacial erratic on the Midstate Trail, which brought our hike to 3.68 miles (as measured by GPS).
This was the troop's eighty-first consecutive month with at least one overnight camping trip.