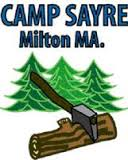 On this trip, we returned for a second time to Camp Sayre in Milton, MA. We camped in the Rockwell site, the same area as last time, but this time, we drove to the camp. The camp allows no vehicles beyond the parking area, making for a long haul up a hill to the camp site. Fortunately, they had carts available.
We had three Scouts and two leaders participating on this trip.
That Saturday, we drove into Boston and hiked the Freedom Trail. This was a great historial tour, covering numerous sites of significance. Along the way, we answered a question about each of the sites. Many of the locals were used to seeing Boy Scouts on the Freedom Trail. We ate lunch outside Quincy Market. The trail ended at Bunker Hill Monument. Two of us climbed the stairs to the top. View our actual trail as recorded by ASM Keith MacNeal's GPS unit:
Trimble Outdoors - map and notes uploaded by Keith MacNeal
GPX file
MappingSupport
We had great weather for December with only light flurries of snow. The ground at the camp was not even frozen.
While in camp, the Scouts worked on fire starting, ax and saw skills and safety.
In the evening, we retired several flags.
Our camp cooking ws mostly done on stoves, except for breakfast that Sunday. While the Scouts had gotten an early enough start getting the meal cooking, the charcoal just didn't seem to generate enough heat, so cooking breakfast took hours. Eventually, our patience was rewarded with the "Feed 'em and go" layered meal.
This was the troop's seventy-second consecutive month with at least one overnight camping trip.
Narrative originally posted on Trimble Outdoors by Keith MacNeal:
BSA Troop 54 from Worcester, MA explored the Freedom Trail in Boston on their December campout. We stayed at Camp Sayre in Milton, MA and came into Boston for the day. The track includes exploration of the sites, a lunch stop at Fanueil Hall Marketplace, and munzee & geocache hunts, so it is a bit longer than advertised. On the way back from Bunker Hill Monument to our car in the Boston Common Parking Garage, we took the most direct route rather than retracing our steps.
Link to Freedom Trail's website: www.thefreedomtrail.org/index.html
The Boston Minuteman Council has a patch for units that hike the trail as well as a scavanger hunt. Complete the scavanger hunt and you can purchase a commemorative medal. Details at bsaboston.doubleknot.com/volunteer/resources/general-resources/the-freedom-trail/30706