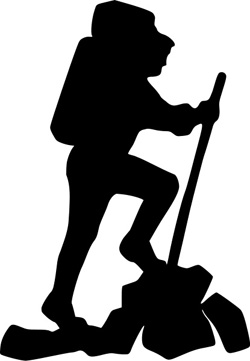 Returning to the Airline Trail in Connecticut for a second trip, we changed things up just a bit by hiking a shorter length of the Airline into Mashamoquet Brook State Park in Pomfret Center, CT. Then, instead of hiking back, we continued on the the Airline (a new segment for us). See our actual trail (GPS data recorded by Keith MacNeal):
Trimble Outdoors - map and notes uploaded by Keith MacNeal
GPX file
MappingSupport
Along the way, we saw turtles, a snake, frogs and horses on the trail. At the trail end (for us), we came to a small farm, where we saw a lama and an emu. Five Scouts and two leaders participated in this trip.
At Mashamoquet, we camped in the Averill Youth Camping site. Some of the Scouts slept in its trail shelter. This site was nicely secluded, well away from the other youth camping site and from the main camping area. For water, it had a hand-pumped well.
From our campsite, we hiked to the pond at the park, where some of the Scouts went swimming.
This was our troop's sixty-sixth consecutive month with at least one overnight camping trip, and this trip was the second of two for this month.
Narrative originally posted on Trimble Outdoors by Keith MacNeal:
The Airline Trail runs through Connecticut on an old rail bed. The trail is flat and open for most of it's length. The western section we hiked on Day 1 was better maintained than the eastern section on Day 2. There were spots on the eastern leg that were totally washed out. A trail around the washed out stretches has begun to form. There are several geocaches along the trail and in the State Park.
We camped at the Averill Youth Group Camping area.
Info on the Airline Trail: trail page.
Info on Mashamoquet Brook State Park: park page.