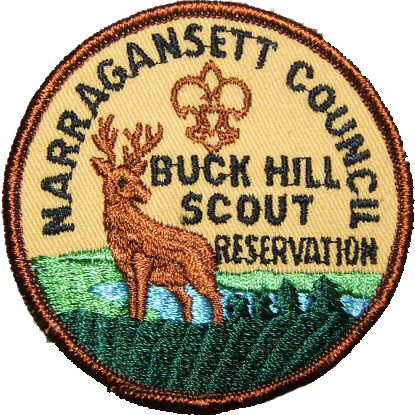 Troop 54 tried another camp that was new to us, travelling south to Buck Hill Scout Reservation in Pascoag, Rhode Island. We arrived at night and found that the individual sites were not marked with names, so it took some time to figure out where to set up camp. Our site, Buck Hill Circle, was right on the shore of Wakefield Pond.
We had seven youth members and four adult leaders participating. We were lucky with the weather - just a bit cool and dry.
On the second day, we travelled to Purgatory Chasm, in Sutton, Massachusetts, where the boys enjoyed clambering along the trail through the chasm so much that they repeated it after lunch. They also liked the sliding rock, using their uniforms to further polish its surface. See our actual trail (GPS data recorded by ASM Keith MacNeal):
Trimble Outdoors
GPX file
GPX file displayed in MappingSupport
In camp, the cooking was gourmet. The youth patrol made chicken quesadillas (with bacon) and a cookie dough cobbler in a Dutch Oven. For dinner, the adults made Jamaican Jerk Chicken, roasted potatoes, sauteed green beens, a squash dish and cherry chocolate pie.
This was our troop's fifty-seventh consecutive month with at least one overnight camping trip.
Narrative originally posted on Trimble Outdoors by Keith MacNeal:
We hiked twice through the chasm. The first time we took the Chasm Loop through the chasm and continued on to Little Purgatory. We returned on Charley's Loop on the northern rim of the chasm and had lunch in one of the picnic areas. Our hike after lunch took us on Chasm Loop along the southern rim, returning though the chasm. We then walked over to one of the large rock ledges for some sliding. There are also some geocaches in the area.