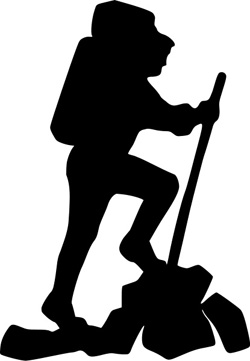 On this trip, we were treated to unseasonably warm weather, hiking much of the trail in short sleeves. These trails were easy to follow and frequently blazed. We found the trail shelter easily. From the time we hit the trail until we returned to the cars, we did not cross any pavement (our kind of trip). Three Scouts and three leaders participated in this trip.
In case you can't tell what sort of food is shown in the green bowl, it was "scrambled pancakes", which is the outcome of pancakes sticking to the pan. It reportedly tasted fine.
The one challenge was water - the nearest water source was pretty muddy and over one mile away from the trail shelter. We use a variety of water purification methods to get to water that looked like ice tea (which worked best for those of us with ice tea packets to mix into it). For other travellers hitting this area in a dry season, we found the water by heading back up the Midstate Trail toward Rhode Island and taking a right onto a smaller unmarked trail next to a large cellar hole. This was a bit tricky to find on this trip as some large trees had fallen across that junction, obscuring the smaller trail.
View our actual trail as recorded by Keith MacNeal:
Trimble Outdoors - map and notes uploaded by Keith MacNeal
GPX File
GPX file displayed in MappingSupport
This was our 47th consecutive month with at least one overnight camping trip.
Narrative originally posted on Trimble Outdoors by Keith MacNeal:
The North South Trail runs through Rhode Island from the Massachusetts border to the Atlantic Ocean. The section through Buck Hill Management Area to the state border is an easy hike on a well marked trail. Rectangular blue blazes clearly mark the route. Once you cross the border, the trail becomes the Midstate Trail which runs all the way to New Hampshire. The Midstate is also well marked with yellow triangles. There is a camping area with a shelter, picnic table & fireplace just over the border into Massachusetts in the Douglas State Forest. This listing also includes an easy side trip to the spot where the borders of Connecticut, Rhode Island and Massachusetts meet. A water source can be found on this trail. This trail is not marked but it is well worn and easy to follow. Be sure to wear blaze orange during hunting season.
Guide books are available for both trails. They feature maps and detailed information about the trails.
Buck Hill Management Area website: http://www.visitrhodeisland.com/what-to-do/hunting/1517/buck-hill-management-area/
North South Trail Info: http://www.rigreenways.org/paths/nst-data.htm (no longer available)
Midstate Trail info: http://www.midstatetrail.org
TO TRAILHEAD: Link to Google Maps for Trailhead. You can use the Directions link to add your starting point.
https://maps.google.com/maps?q=+buck+hill+road,Burrillville,RI