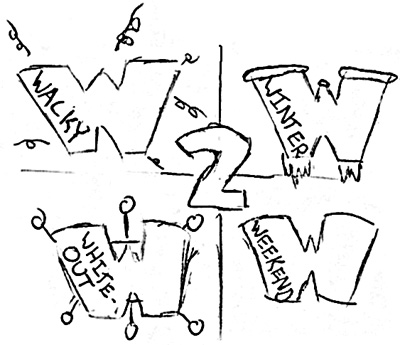 The cabins were about perfect for this type of trip. Cooking outdoors was crisp, with the main challenge being that it was hard to rinse the dishes before the soap froze on them. ASM Keevan baked a birthday cake for Bowen, who turned 18 and became an ASM himself during the trip.
As there was no snow cover in the area, we left the sleds behind. As it happened, we found a local neighborhood ski slope with snow-making nearby - this would be a great side activity if we return to the area.
Our hosts at the Natural Stone Bridge & Caves Park were very accomodating and welcoming.
As a result of perfect recent light snow powder, we saw tracks of mice, red squirrel, fox, coyote, deer and grouse. We saw tree damage by wood peckers, yellow bellied sap suckers, and deer (antlers). The host provided marshmallows and a nice camp fire at the lodge. See our actual trail (GPS data recorded by ASM Keith MacNeal):
Trimble Outdoors
GPX file
GPX file displayed in MappingSupport
YakTrax, required by the owner, were a real winner for walking on ice.
A vehicle mechanical failure caused two of us to spend ten hours of the first day waiting for the vehicle to be repaired.
This was our 38th consecutive month with at least one overnight camping trip.
Narrative originally posted on Trimble Outdoors by Keith MacNeal:
Natural Stone Bridge and Caves in Pottersville, NY has a nice network of hiking trails. Snow shoe rentals are available in the winter (weather permitting). Full details are available at their website.
We hiked the Stone Bridge, Trout Brook and Beaver Stump river trails in the morning then headed back to the Lodge for lunch. There was a fire going and marshmallows on the picnic table for toasting courtesy of the Park. After lunch we embarked for the scenic vistas of Bobcat Ledge and Hidden View trails. There is an online map of the full trail system on their website (link no longer available).