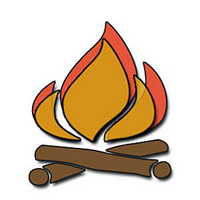 Pequot Museum / Yawgoog Camping Trip
December 5-6, 2009
Mashantucket, CT and
Rockville, RI
On Saturday, December 5, it was raining and snow was in the forecast, so we wanted to get our tents up early. Troop 54 travelled first to Camp Yawgoog, in Rockville, RI, for the tent set-up. This was our first time visiting this camp; unfortunately, the weather prevented us from seeing much of it.
Then, we headed to the Mashantucket Pequot Museum and Research Center in Mashantucket, CT, about 30 minutes away. Twelve Scouts and five leaders went to the museum. We participated in a guided tour and a session on pteroplyphs. All agreed that this was one very nice Native American museum.
After the museum, seven Scouts and four leaders headed back to the camp for an evening of Dutch oven cooking in a wintery mix that left the tents heavily encrusted with wet snow. The cooking was possible thanks to advance planning that included packing charcoal and portable gazebos. Dinner for the Scouts was beef pot roast with apple cobbler. For the leaders, ASM MacNeal prepared beef stew, fresh-baked Irish soda bread and brownies.
Packing up on Sunday was our first time stowing gear caked with ice inside (condensation) and out. Let's hope our Scouts quickly dried our troop tents at home!
Photos by: Joshua Froimson.