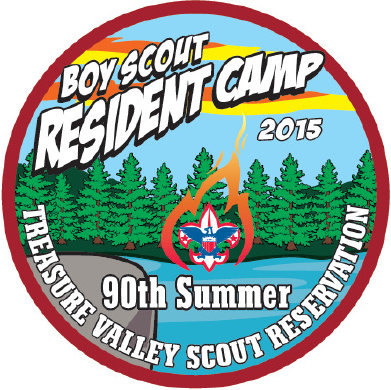 Troop 54 went to Treasure Valley Scout Reservation for summer camp. We had four youth participants and three adult participants. We camped at the Baden Powell site, which is right next to the ranges. There were nine troops in camp for the week, all from the Mohegan council. In total, the Boy Scout camp had 106 Scouts and 31 adult campers this week.
100% of our youth and adult participants attained Swimmer status at the swim check.
During the main program hours, our Scouts focused mostly on rifle and archery (which most of our Scouts had already earned). Seven merit badges were earned.
Arrow Tour, a national commemoration of the 100th anniversary of Order of the Arrow, visited TVSR on our first day of camp. In addition to exhibits highlighting the history of the OA and our local lodge, they had a Gaga Ball game for participants, as well as silk screening and leather branding stations. The OA had a Brotherhood ceremony one night, at which members of Troop 54 served as participants and observers. Most of the members of the troop participated in the OA Hour of Service, hacking back overgrowth at our camp site with grass whips.
For the annual Magee Day Games, Troop 54 teamed up with Troop 795, also of Worcester. This camp-wide event consisted of several games on Boonesville Plain and on the upper field, including a hatchet throw and a variant of volleyball (played with a football). Our combined team placed seventh in a field of ten.
Thursday was Throwback Thursday, with the camp encouraging all to wear vintage uniforms. Troop 54 seemed to have the highest proportion of members wearing these (darker green shirts) at dinner.
Our Scoutmaster completed Mile Swim. One of our Scouts participated in the swamp romp, always a popular event, in which Scouts squish through the mud at the end of Browning Pond, looking to identify critters with staff from Ecology CONservation. One of our Scouts took first place in the annual Tournament of Champions archery competition for a second year in a row.
The camp had a Back to the Future theme this year, but this was not well-known. In practical terms, the theme was "Buy a Yowie". This custom printed headgear was pushed so hard by the Trading Post person (Tim Bernard) that troops were inspired to take up the cause in skits and songs, especially during meals.
The weather was great - just a couple of sprinkles on the first and last days.
This was the troop's seventy-ninth consecutive month with at least one overnight camping trip.