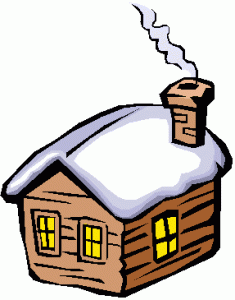 Troop 54 combined with Troop 18 of Ashburnham, Massachusetts for a trip to Camp Collier in Gardner, MA. Our last time at this camp was for the 2013 Nashua Valley Council Klondike Derby. Camp Collier was created as part of the Monadnock Council of the BSA and owned by a trust that remained separate from Nashua Valley Council when the Monadnock Council lost its charter in 1993. We stayed in the Magee Cabin, which had a wood stove and electricity (but no water this weekend).
We had 4 Boy Scouts, 1 Webelos Scout and 4 adults participating on this event. Troop 18 had 3 Boy Scouts, 1 Webelos Scout and 3 adults on the trip.
The trip got off to an exciting start when the trailer and its car became stuck on the sloped, icy driveway into the cabin. That same driveway turned out to be perfect for sledding Friday night and Saturday morning. A large pile of snow left by the plow at the end of the driveway became the center of numerous extended snowball fights throughout the weekend.
Before setting up the outdoor cooking area, we had to shovel out the area. The weather was unseasonably warm, never dropping below freezing and rising into the 40s or 50s during the day. Snow that had been hard to compact at the beginning of the weekend started to melt. That allowed the Scouts to make several snowmen.
Troop 18 ran a rescue simulation, in which the Scouts had to get a fire going to warm up a hypothermia victim.
The Magee Cabin is near the edge of Lake Wampanog. During the day on Saturday, the Troop 18 Scouts went into Ashburnham to show support for a Webelos Leader. For lunch, the Troop 54 Scouts baked pizza in Dutch ovens, which took hours. When that was finally done, we headed out onto the lake for some ice fishing. The ice was about a foot deep. The Scouts didn't catch any fish, but they had fun trying, using a Tip-up, a couple of rods, and the old-fashioned "stick your hand in and grab one" method.
By the end of the weekend, the driveway was mostly mud.
This was the troop's ninety-eighth consecutive month with at least one overnight camping trip.