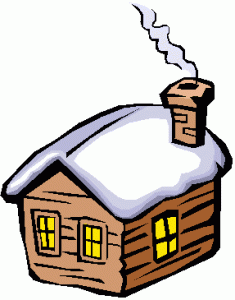 Troop 54 traveled to Goshen, CT for our first trip to Camp Strang. We stayed in the Tierney Lodge. The side we had was equipped with bunk beds, tables and a wood stove. The other side serves as the camp office during their Boy Scout summer camp.
Tierney Lodge was just off the camp parking lot, so carrying our gear in was not too bad, except for the icy, steep path up to the building.
We had five Scouts and two leaders participating on this trip.
Even with the wood stove going strong all night, that first night, we could still see our breath inside the cabin. By morning on Saturday, it was bitter cold outside (about 3°F and very windy). Fortunately, it warmed up later in the day.
During the day, the Scouts did some sledding and snow ball throwing. The leaders went on a self-guided tour of the camp. At about 186 acres, it is a relatively small camp, but it had all of the expected elements, including a climbing area, a waterfront and a dining hall.
We did our camp cooking on stoves inside the cabin, using the top of the wood stove for heating water and keeping soup simmering.
This was the troop's seventy-third consecutive month with at least one overnight camping trip.