SERVICE
15,000 Hours of Service Provided to Your Community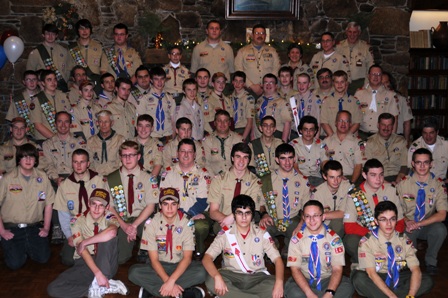 The Mohegan Council Eagle Class of 2012 Recognition Dinner was held on Friday, January 4, 2013 at Spencer Country Inn. Worcester County Sheriff Lewis Evangelidis served as keynote speaker.
74 young men achieved the rank of Eagle Scout last year. Less than 4% of all boys that join Scouting earn this, the highest rank in Scouting. It is estimated that more than 15,000 hours of community service was provided through the performance of leadership projects undertaken by these young men. The Eagle project is an integral part of the requirements to become an Eagle Scout through which the Scout demonstrates his ability to plan the project, recruit volunteers, and lead others.
Examples of some of the Eagle Scout Service Projects conducted last year include:
Scout
Stephen Shamgochian of Troop 158 created and instituted an after-school robotics program at the Nativity School of Worcester. For six-weeks, Stephen and three assistants conducted a robotics class in which the boys at the school learned how to build and program a robot to perform specific tasks on a playing field.
For his project, Michael Tozeski of Troop 114 coordinated and organized 53 fellow scouts, friends and family members in the building of elevated dog beds to benefit the Worcester Animal Rescue League.
Christian Alexandrou, also of Troop 114, led a project to create a veterans' memorial garden honoring veterans of all wars who were at one time parishioners of St. Spyridon Greek Orthodox Cathedral in Worcester.
Shrewsbury's
John Lindsay led a team of volunteers in building a new weigh station at the Community Harvest Project (CHP) in Grafton. CHP provides fresh fruits and vegetables that are distributed to hunger relief organizations in the Worcester County Food Bank's network.
Timothy Froimson of Troop 54 led members of the troop in fabricating a toy box and portable steps for the playground at Burncoat Family Center in Worcester, a residential and day treatment program for children with serious emotional issues.
2012 Eagle Scouts represented the following communities: Bolton, Brookfield, Charlton, Douglas, Dudley, Grafton, Holden, Jefferson, Leicester, Millbury, N. Brookfield, N. Grafton, Oxford, Paxton, Rutland, Shrewsbury, Southbridge, Spencer, Sutton, Upton, W. Brookfield, Warren, Webster, Whitinsville, and Worcester. Did your town produce an Eagle Scout last year?
EDUCATION
Grafton Pack 106 Earns First STEM Awards in Massachusetts
14 Scouts to be recognized February 10 for achievement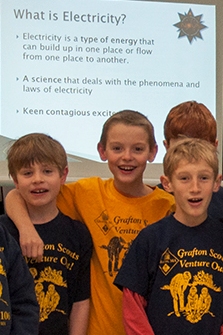 Fourteen Webelos from Pack 106 will receive the first Boy Scouts of America (BSA) Supernova Awards to be awarded in Massachusetts. STEM focuses on exposing boys to science, technology, engineering and mathematics and the BSA program offers four different Nova awards for Cubs, Webelos, Boy Scouts and Venturers.
The Supernova requirements are completed by earning the Scholar, Scientist and Engineer Webelos activity badges, earning three activity badges of Craftsman, Forester, Geologist, Naturalist, Outdoorsman or Readyman; research five scientists, technology innovators, engineers or mathematicians; and discuss with his teacher or Cub Scout Leader the importance of math and science in education; among other things.
Additionally, the scout must visit or learn about a STEM-related career; do an experiment under the direction of his mentor that shows how the scientific method is used; and participate in a Nova or STEM-related activity with a Boy Scout who is working towards his own Supernova Award, or within his Pack of Den. Once these requirements are met, a Scout can then apply for the Webelos Scout Supernova Award for approval.
FUN
Interested in Sending your Son to Cub Scout Camp?

You can now view a 2.5-minute video that captures the flavor, activities, scenes and set-up of the Mohegan Council's Cub Scout Day Camp at Treasure Valley Scout Reservation. Click link below to discover the Scouting adventure for our youngest Scouts in nearby Rutland, Mass. Not a Scout? No problem. Call us at 508-752-3769 to find a Cub Scout Pack in your community.

http://www.youtube.com/watch?v=GCNu5vE5ECI