TRAVEL RECORD OF CREW E080711B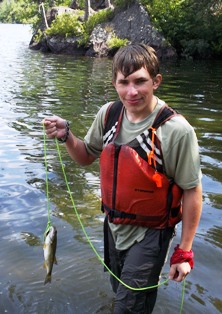 MOHEGAN COUNCIL CONTINGENT TO NORTHERN TIER

AUGUST 6 THROUGH AUGUST 13, 2011
Porter was up early fishing and getting hot water and coffee going. Bob joined him at 6:15 and the rest of the crew was up by 8:15. We had no luck using lures.
Bob and Stephen finished canoeing merit badge in the calm early morning water where Stephen did his solo canoeing and solo pivoting maneuvers.
We caught a couple more fish (bass) one we kept on a string to cook later (we released it live later) and one large one that got away before we could land it.
We did some more jumping from the ledge and Redbeard cooked us up some doughnuts using bannock for a mid-morning snack. We took down camp, ate a light lunch, and left for base at 1:05 PM.
We paddled west on Newfound Lake tapped the "good luck pole" on the way into Moose Lake and we were the first crew to arrive after 2:00 PM (which was the requested time). We arrived at 2:10 PM. We made our last and 27th portage 10r. up to the canoe yard.
Upon arriving we checked in our canoes and gear (which were all in good shape, no extra charges for damage) texted parents back home that we were back to base, and headed for the "Off Water Cabins" and the sauna/shower house.
We had dinner at 5:30 and after that spent time copying our route onto maps with the help of Redbeard. We also filled out evaluation forms (one for scouts and one for advisors). Next we went to the "Rendezvous" at 7:45. This was a campfire with a French Canadian theme with some great skits and songs by the staff and the Off Water crews like ours. Crew E110807A did the bandana/banana skit with Shane being the banana. We sang Charlie on the MTA with Ben singing lead and the rest of us helping with the chorus. It was well received and the rendezvous was a great closing activity for our time at Northern Tier. We gave Redbeard some gifts that included: a pirate flag signed by each of us, a couple of our Northern Tier Council strips, foot powder, a toothpick holder, and a contingent t-shirt. We also checked his pronunciation of bubbla, and reminded him that when you leave someplace you announce it by saying "Let's blow this clambake".
We closed the trading post/snack bar at 10 PM of course and headed back to our cabin which was called Fond Du Lac which is French for end of lake, a fitting name for the end of our trip.