Mohegan Council Contingent to Northern Tier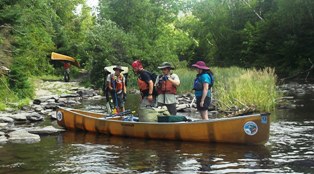 TRAVEL RECORD OF CREW E080711B
AUGUST 6 THROUGH AUGUST 13, 2011
Thursday August 11, 2011
Ben and Porter were up early starting breakfast and coffee. The rest of us were up around 6:05 breaking camp and had breakfast hot granola at 7:00. We launched at 8:25 in the first dry =E2=80=9Cwet clothes=E2=80=9D since starting out. Didn't matter much because we got our boots wet on that launch. Ben and Porter started right off with their next endeavor, which was earning us the Geocacher Award. They marked a small rock near our campsite and called it Seagull Island because of all the seagulls that were there.
Stephen started out in the bow with Bob in the stern and Dan and Chrissy were paddling with Redbeard when we headed out. It was a beautiful morning for canoeing and we made short work of Ima Lake even though it is a fair sized lake.
We made our 22nd portage 5r. into a canyon that eventually led us to Jordan Lake. We encountered several other Northern Tier crews and this is where we found out about interpreter hugs. Because of the Rule of Nine which prohibits there being more than 9 people in a campsite at one time, interpreters who want to visit with each other and exchange hugs must do so in the water. We witnessed about 4 hugs, most of them at Redbeard's initiative. This is when we realized that our Redbeard is sweet on an interpreter named Katie.
Stephen was paddling in the stern across Jordan Lake and for the next two lakes to practice his canoeing skills, specifically the J-stroke. We made our 23rd portage 55r. into Cattyman Lake and shortly after made the 24th portage 25r. into Gibson Lake.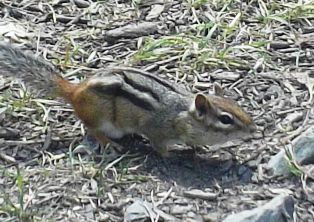 Our 25th portage 105r. into Ashigan Lake was our longest and it ended us up in Ensign Lake which we paddled with three other crews for a while. We paddled into a steady wind for about three miles before landing at a beautiful and high campsite on the southeastern shore for lunch. It was the best lunch that we had and we shared it with a chipmunk that had an old injury on it's right rear leg. It was very hot in the sun and we all re-applied sunscreen before launching.
Shortly after lunch we came upon a bunch of seagulls in the water pecking at something. When we got closer we could see that they had a dead walleye in the water but were having no luck eating it. Bob spotted an osprey circling above and Ben spotted a bald eagle in a tree on the north shore. We backed away and watched the drama unfold. The osprey swooped down, scattering the seagulls, grabbed the walleye and flew off toward the south shore with the eagle and the seagulls in hot pursuit! No one was willing to bet that the osprey got first dibs on that walleye.
We were able to avoid a portage by running a short sluice into Splash Lake and after a short paddle we came to our 26th portage 35r. We were now back in Sucker Lake and our goal was to find a campsite on Horseshoe Island. After checking out a few sites on nearby islands and one on the east side of Horseshoe (which Porter and Redbeard liked) we found an open one on the north side.
We set up an early camp there and Bob started working on canoeing merit badge with Stephen and had help from Ben and Dan with the swamping, getting in and out, and canoe over canoe rescues. After that we did some jumping off a short ledge and resumed our fishing with several more bass being caught.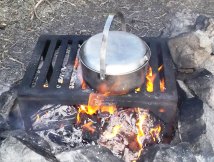 Dinner was noodles, sauce, and meatballs. It was good but again not enough. Redbeard did make some brownies for us and Stephen led another devotional service. Thorns were: (Stephen was sore from paddling), Roses (Stephen was happy about his new canoeing skills) and Rosebuds (Everyone was looking forward to a shower). We retired at 9:00 PM and a storm came down from the north that brought high winds and some rain.