Outdoor Principles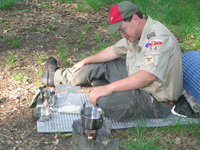 Outdoor Code
While enjoying the outdoors, each Scout is expected to adhere to the Outdoor Code:
As an American, I will do my best to -
Be clean in my outdoor manners.
Be careful with fire.
Be considerate in the outdoors.
Be conservation-minded.
Leave No Trace
The Boy Scouts of America encourage following the principles of Leave No Trace:
Plan Ahead and Prepare
Travel and Camp on Durable Surfaces
Dispose of Waste Properly
Leave What You Find
Minimize Campfire Impacts
Respect Wildlife
Be Considerate of Other Visitors
For details, see the Leave No Trace website or the Leave No Trace page on the Scouting website.

| | |
| --- | --- |
| Page updated 3/13/11. | |