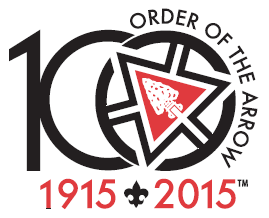 Order of the Arrow
The Order of the Arrow (OA) is the honor society of Boy Scouts. OA is dedicated to cheerful service and the promotion of camping. From the national OA site:
The Order of the Arrow, or "OA," is a service organization and the national honor society of the Boy Scouts of America. Members are elected from within their units and recognized as those who best live the ideals of brotherhood, cheerfulness, and service. Under the guidance of selected capable adults, OA members under 21 provide leadership to the organization. The OA has enjoyed a long history of service. Founded in 1915 by Dr. E. Urner Goodman and Carroll A. Edson, the OA emphasizes servant-leadership nationwide in nearly 300 Boy Scout councils. In addition to local community service, the OA provides service on a national level, too.
Membership Requirements - This page details how a Scout can become a member of the Order of the Arrow.
The lodge for the Mohegan Council is Pachachaug Lodge 525.
If you want to become a candidate for election into OA, you will need to pay attention to the rank and camping participation requirements.
Page updated 1/14/18
J. Froimson