Herbert Adams
Herbert Adams at the Troop 54 Centennial Celebration (September 20, 2015).
Scouting
Mr. Adams served as Troop 54 Scoutmaster for 26 years, as Chartered Organization Representative for 20 years and as Committee Member for many years. He was a leader in the troop from 1955 until his death on October 4, 2015. During his time with the troop, Mr. Adams took the troop on monthly camping trips, including several trips to the Philmont Scout Ranch. The troop held a 90th birthday party for Mr. Adams on October 4, 2013, that was the biggest event we have hosted in recent years. We were fortunate that Mr. Adams was able to attend the troop's Centennial Celebration on September 20, 2015, just two weeks before his passing.
Mr. Adams strongly encouraged our Scouts to attain the rank of Eagle Scout. At each Eagle Scout Court of Honor, he issued the challenge, presenting a silver dollar to remind the new Eagle Scout of his ongoing responsibility to service. Candle holders Mr. Adams made well over 50 years ago continue to be used in troop ceremonies.
He completed many projects at Treasure Valley Scout Reservation, including work to create the West Camp when that was built to expand summer camp. Together with Roger Hunt, he built the Rifle Range in East Camp and the West Lodge. They also replaced much of the paneling in East Lodge. In recogniion of Mr. Adams' dedication to Scouting, he received numerous awards, including the District Award of Merit (Quinsigamond District, 1975) and the Silver Beaver Award (the highest council award, 1966).
Military Service
Long before he began his association with Boy Scouts, Mr. Adams was a highly decorated World War II war hero. For many years, members of Troop 54 were treated just before Memorial Day to in-person recollections by Mr. Adams of his time leading up to and during the war. While so many people have done anything they could to avoid serving in the military, Mr. Adams had to mislead the recruiter in order to get into the army during World War II. He worked the system to get into more action and more campaigns. Among the campaigns M. Adams served in was Operation Market Garden on September 17, 1944. As a result of serving his final campaign in freezing weather with completely inadequate gear, he suffered serious frost bite in his feet that left him in pain for the rest of his life. This did not slow Mr. Adams down a bit.
Mr. Adams was a long-time member of several veterans organizations. He frequently volunteered to help the Disabled American Veterans raise money; even at the age of 90, Mr. Adams could be seen collecting donations outside the Stop & Shop on West Boylston Street in Worcester.
Taking Care of his City
Mr. Adams took a personal interest in the appearance of his city, taking on maintenance projects in public parks and on public roadways. From mowing grass to climbing trees to prune them (sometimes with a chain saw), Mr. Adams could often be seen working in the area around Indian Lake, even as he approached the age of 90. He moved the lawn at Morgan Park for decades.
Mr. Adams served on the Board of Directors of the Indian Lake Watershed Association (ILWA) for many years, volunteering on numerous projects of theirs. Ensuring that his fellow fallen soldiers fit with his ILWA work. Mr. Adams personally maintained the Frostholm Memorial for over forty years. He pressed for the project to renovate the memorial, completed by the Indian Lake Watershed Association (the re-dedication was held in May 2007); as part of that project, he and Bob Gates (also a former Troop 54 Scoutmaster and then President of the ILWA) constructed a new case in which the names of the fallen solders are displayed. He personally ,maintained "The Eagle" memorial on West Boylston St. He worked on the project to restore the Hapgood Brook Memorial at Route 122A and Holden Road.
Partly in recognition of his tireless efforts to improve the city, Mr. Adams was awarded the Key to the City three times, most recently on March 13, 2012. Troop 54 attended this meeting of the City Council, where the description of Mr. Adams' dedication was an inspiration to us all.
ILWA Press Release - Beth Proko, President of the Indian Lake Watershed Association, prepared this detailed summary of Mr. Adams military service and community involvement.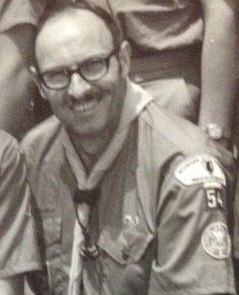 Herbert Adams during an expedition at the Philmont Scout Ranch (1971).
Articles on Mr. Adams
While Herbert Adams never became a user of the Internet, he had a presence on it.
| | |
| --- | --- |
| Page updated 1/9/17. | |