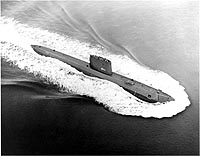 Saturday, December 4 -
Sunday, December 5, 2010
Submarine Force Museum
Groton, CT
Troop 54 will visit the Submarine Force Museum, home of the USS Nautilus submarine. First, we will head to Deer Lake Scout Reservation in Killingworth, CT, to set up camp (our first visit to this camp). Then, we will drive to the museum, spending the day exploring the submarine and the rest of the museum. Finally, we will return to Deer Lake for our campout.
We have reserved the Pines tent site at Deer Lake, which has a picnic table and no pavillion.
Travel There:
Meet at the Immaculate Conception Church parking lot at 8:00 AM Saturday for departure by 8:30 AM.
Travel to the camp is approximately 1 hour 45 mintues.
Travel from the camp to the museum is approximately 45 minutes.
Registration:
Permission Slip - Each participating Scout must submit this to the Scoutmaster before the event.
CORI - Adults staying overnight must have submitted a CORI to the Mohegan Council within the last year. If you need this, please submit it to the Scoutmaster by November 30.
Youth Protection Training - Adults staying overnight must have completed BSA Youth Protection Training within the prior two years. If you need this, submit your training certificate to the Scoutmaster by November 30.
Vehicle Information - If your vehicle information has not been included on a previous tour permit, please provide this to the Scoutmaster by November 3.
Cost - Share of food cost for patrol (Scouts and Leaders)
Note: No youth is permitted to sleep in the tent with an adult other than his own parent or guardian per BSA rules.
Planning status:
Tour permit - Done
Site reservation - Done
Fire Permit - Not required