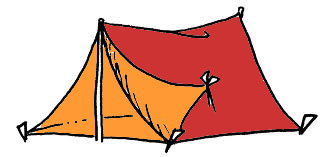 Sunday
August 12, 2012
12:00 PM - 4:00 PM
Elm Park in Worcester, MA
Pack 54 and Troop 54 will set up a model camp site in Elm Park.
The Boy Scouts will give members of the public tips on:
Siting and setting up tents.
Purifying water on backwoods camping trips.
Different types of stoves.
Preventing the spread of pests into our forests..
The Cub Scouts will have a craft activity to do with younger members of the public.
Prospective Cub Scouts and Boy Scouts and their parents can learn about Pack 54 and Troop 54.
We will meet at the park, near the playground.
Boy Scouts should bring any food they want to eat.
Boy Scouts will set up the model camp site from 11:00 AM to 12:00 PM. Flames are not permitted in Elm Park; any cooking will be simulated.
Registration
There is no fee for this event.
Please let the Scoutmaster know if you plan to attend (joshua@froimson.net).
Permission Slip - Please bring one completed permission slip per youth participant. This is not required for members of the public visiting the exhibit.
Travel
Elm Park is located on Park Avenue, between Highland Street and Elm Street.