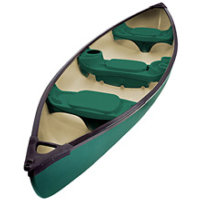 Saturday, September 18 -
Sunday, September 19, 2010
Camp Squanto
Plymouth, MA
Troop 54 will head out for our first troop canoeing outing on Fawn Pond at Camp Squanto.
In order to ensure the safety of our on-water participants, we'll start the day by setting up a safe swim area for swim qualification at the Family Beach near the Jefferson Center. Swim qualified individuals (level depends on canoe, kayak or rowboat) will demonstrate boating proficiency.
Participants who will not be on the water will enjoy a pleasant hike to the camp side of the pond.
Registration:
Cost: Share of food cost for patrol (Scouts and Leaders)
Travel There:
Meet at the Immaculate Conception Church parking lot at 7 AM Saturday for departure by 7:30 AM.
Travel to the beach is approximately 1.5 hours. See the Camp Squanto directions as there is a detour at the forest.
Estimated return to the church is 3:00 PM Sunday.
There will be running water and restrooms on the camp side but not at our starting point.
Try not to pack too much. While most of us will not be backpacking, there may be a bit of a hike from the pond to the camp site (to be assigned when we arrive). What you do bring should be pacakged to enable securing in a boat and protected from water (imagine an upside down boat).
Use our Backwoods Camping List to make sure you don't forget anything. Be sure to include Bug Spray, Suntan Lotion, Hat and Plenty of Water.
Participants should be familiar with the BSA's Safe Swim Defense and Safety Afloat requirements. These will be reviewed at the September 14 troop meeting and at the water's edge. Leaders should take the training on these before the trip.
Note that the gate to the parking area at the Jefferson Center will be closed after we arrive, so cars won't be able to come and go from there.
Planning status:
Tour permit - Done
Site reservation - Done
Fire Permit - Not required