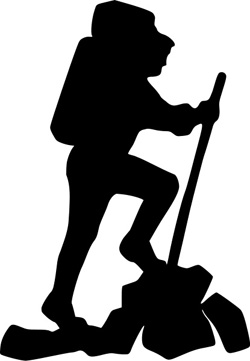 Friday, August 22 -
Sunday, August 24, 2014
White Mountain National Forest
(near Lincoln, NH)
For this trip, we will travel north to the White Mountain National Forest. This will take us into the wilderness and away from paved roads for the weekend. Our plan:
Day 1 - Start at trail head on Rt 302 near Crawford Notch State Park. Hike over Mt. Wiley and Mt. Field to where Mt. Field Brook crosses the trail,approx 5.25 mi, including approx 2,500 ft elevation increase in 1st 3 miles.
Day 2 - Hike past Zealand Pond to Shoal Pond and camp near that. Approx 4.3 miles.
Day 3 - Hike on Appalachian Trail back to trail head, approx. 4.3 miles.
We will be on the Appalachian Trail for msot of the second and third days, the longest segment we have hiked on this trail. For details see topographical maps of our planned trailhead and loop trail.
Pack light - "Every ounce counts!"
Use our Backwoods Camping List to make sure you don't forget anything. Be sure to include plenty of water. See other camping information on our Camping page.
A planning meeting for participants will be held on Tuesday, August 19, 7:00-8:30 PM at the church.
Registration:
Permission Slip - Each participating Scout must submit this to the Scoutmaster before the event.
Annual Health and Medical Record - Each participant must have submitted this record within the previous year. This trip requires only Parts A and B (pages 2 and 3), including copy of insurance card (both sides). A medical exam is not required.
CORI - Adults staying overnight must have submitted a CORI to the Mohegan Council within the last year. If you need this, please submit it to the Scoutmaster by August 23.
Youth Protection Training - Adults staying overnight must have completed BSA Youth Protection Training within the prior two years. If you need this, submit your training certificate to the Scoutmaster by August 23.
Vehicle Information - If your vehicle information has not been included on a previous tour permit, please provide this to the Scoutmaster by August 23.
Cost:
Scouts - $20 (includes food)
Leaders - $0 (does not include food)
Travel There:
Meet at the Epworth United Methodist Church parking lot at 7:00 AM Friday for departure at 7:15 AM.
Travel to the trailhead is approximately 3 hours 10 minutes.
Estimated return to the church is 4:00 PM Sunday.