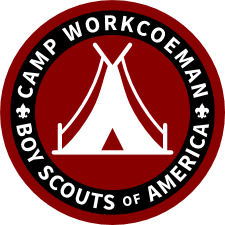 We had planned a backpacking trip for this weekend, but recent snows made the prospect of hiking a trail pretty unrealistic. Instead, Troop 54 visited Camp Workcoeman in New Hartford, Connecticut for our first time, bringing us to our twenty-fourth Scout camp since 2006.
We camped in the Adirondacks site, which featured 5 open faced shelters, each with six beds. We had four participating Boy Scouts and two leaders on this trip.
Although this 427 acre camp has a waterfront, most of the lake's shore is taken up by private properties, some just across the camp road from camp sites and cabins. The camp had a few inches of snow on the ground but not enough to keep us from exploring the camp. We saw tent sites with a pretty significant capacity for summer campers - probably well over 200.
After seeing the whole camp, our Scouts felt that our campsite was the best place to try some sledding. Amazingly, they managed not to faceplant on any of the trees or shelters.
After dinner, we baked chocolate cake on backpacking stoves in honor of one Scouts's birthday. The muffins "baked" in silicone cups over boiling water came out better than the large pancake version baked in a mess kit.
The temperature was mostly in the 30's on Saturday and in the 20's on Sunday and dropped to 13°F overnight. Large icicles had fomed on some camp buildings.
On the way back to Worcester, we visited the Norman Rockwell Museum in Stockbridge, Massachusetts. This was a really nice museum on a pretty large estate. We saw a couple of his iconic Scouting illustrations among the artworks in this extensive collection. Walking around the grounds afterward, we saw that the museum property is abutted by what looked like a fair amount of wilderness, making for a great view.
This was the troop's 111th consecutive month with at least one overnight camping trip.