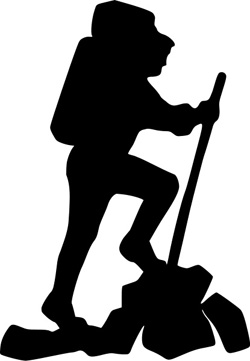 This was a straight through trail for us, with cars getting shuttled back and forth. The hike was about four miles the first day and seven the second day. Check our actual trail as recorded by ASM MacNeal:
Trimble Outdoors - map and notes uploaded by Keith MacNeal
GPX File
GPX file displayed in MappingSupport
The trail shelter, used by most of the Scouts, was the most impressive we have seen. It was quite tall, with a loft for some of the sleeping area.
This was our 39th consecutive month with at least one overnight camping trip.
Narrative originally posted on Trimble Outdoors by Keith MacNeal:
Details on this section of the Metacomet-Monadnock Trail can be found at amcberkshire.org/node/55. The M-M trail is blazed with white rectangles.
Details on the Tully Trail can be found at (link no longer available) and www.thetrustees.org/places-to-visit/places-to-stay/tully-lake-campground/tully-trail.html The Tully Trail is marked with yellow blazes.
Trails are well marked and most are wide. Nice downhill grade following Falls Brook into Long Pond. Steep, narrow section alongside Spirit Falls.
The trip starts from Monument Road off of Route 119 in Richmond, NH. We parked on the side of Monument Road and hiked in to the Falls Brook Shelter where we stayed overnight.
After setting up camp, we took the short hike to Royalston Falls. Even with the lack of snow melt this year, the falls are impressive.
On day 2 we followed the Tully Trail down to Long Pond. We took a lunch break under the powerlines. Rather than following the Tully Trail up the powerlines, we took the Bike Trail along the pond and rejoined the Tully Trail to head up to Spirit Falls. Scenery is great and we could only imagine what it would be like with more snow melt running off. At the top of the Falls another trail comes in that leads south to The Ledges or North to a parking area on Route 68. We continued on the Tully Trail to a scenic overlook above Long Pond. From there continue north to the powerlines and then a short distance to Route 68 where we had left a vehicle. There is an official parking spot marked on the Tully Trail map that is a bit southeast of where we parked.
There are a few geocaches in the area. There are many more closer to the Tully Lake Campground.