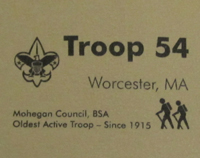 Troop 54 was at Chippewa site this year, our second time using it during summer camp. The site worked well for us as it was centrally located to program locations while being off the beaten path. The weather was really good (only rained once - and that was while we were sleeping). The mosquitos were not too bad this year. This was the biggest week of the seaon for Treasure Valley. All eleven sites were occupied one by a combination of three troops.
Troop 54 had twenty-five campers this year (19 Scouts and 6 leaders). During the week:
Several members of the troop participated in the Order of the Arrow's Hour of Service, this year cleaning up the edge of the new camp road near the Ranger's house.
Our first year camper participated in Brownsea Island Adventure.
Our Scouts competed effectively in the campwide relay race.
Our Scouts earned 71 merit badges (and several partials).
We had three rank advancements.
Five Scouts were tapped out for Order of the Arrow.
Troops in camp during Week 2 this year:
| | |
| --- | --- |
| Baden Powell | Troop 13 (Out of Council, Ipswich, MA) |
| Chippewa | Troop 54 (Worcester, MA) |
| Evergreen | Troop 121 (Auburn, MA) |
| Hemlock | Troop 238 (West Brookfield, MA) |
| Hickory | Troop 227 (Shrewsbury, MA) |
| High Mesa | Troop 273 (Dudley) |
| Madore | Troop 175 (Holden, MA) |
| Pine Acres | Troop 37 (Worcester, MA) |
| Sleepy Hollow | Troop 151 (West Boylston, MA) |
| Tall Maples | Troops 40, 98 (Spencer, MA) and 254 (Oxford, MA) |
| Thunderbird | Troop 182 (Holden, MA) |
Photos by: Joshua Froimson, Charles Monahan III