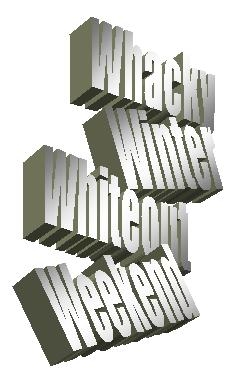 Whacky Winter Whiteout Weekend
Friday, February 25 -
Sunday, February 27, 2011
Bolton, MA
Taking advantage of some real winter conditions, Troop 54 made our first visit to Robsham Scout Reservation. With plenty of snow already on the ground and more falling as we arrived, we had the workings to complete most of our planned events.
Our lodging, the Rifle Range cabin, was different from other cabins we have used. This one had garage door windows across two sides, probably perfect when it is in use during summer camp. Under our conditions, the non-existent insulation and extensive amount of air leakage meant that the very effective wood stove was never able to get the place really warm. The huge snow base, combined with recent warm weather, created a large enough puddle around one end of the cabin that the floor at that end was submerged by water coming in through a door. On the positive side, there seemed plenty of bunks and plenty of room for our group.
The nearby shotgun range field served as the perfect stage for a collection of snow forts and a somewhat disorganized running snowball battle. All of the Scouts survived, but none of the forts made it.
To go sledding, the Scouts had but to step out the back door of the cabin, where the customary hillside backdrop for rifle shotting made a wickedly steep sled run. Even this was not enough for some of the Scouts, who added a small jump in the middle - yes, they went airborn off that.
The pond had a solidly walkable ice surface (no snow or slush on top), which made a brief attempt at ice fishing quite tolerable.
Another major outdoor activity was gathering and cutting firewood. Whatever the camp had was buried in wet snow in unkonwn locations. Our group generated a prodigious amount of firewood (after the first night, which was not entirely heated). In fact, we left quite a bit of wood for the next round of campers. Hopefully, they appreciated the neatly stacked and by then, dry piles of wood.
Exploring the camp a bit, we found a sort of downtown area of cabins along the main road, all with matching colors. The tradig post seemed particularly impressive, although part of that might have been the "We accept MasterCard" sign in its window. It is not hard to imagine this place looking really nice during the summer camp season.
Indoor activities mostly consisted of all sorts of cooking. We used the fireplace for Dutch oven cooking, including a perfectly baked chocalate cake. The favorite food, however, seemed to be the homemade ice cream, with Scouts providing the cranking and shaking power to solidify the product.
Photos by: Joshua Froimson