Space Derby
Thursday
December 3, 2015
6:30 - 7:30 PM
Epworth UMC
Event Description
Note: Thie event was re-scheduled from November 19 due to a conflict wth another event in the hall.
Pack 54 will hold our first Space Derby. In this event, the Cub Scouts race rubber band powered rocket models gliding on strings. These rockets are made of balsa wood, so a Cub Scout can shape the rocket himself using sandpaper.
Before the event, each Cub Scout needs to get the Space Derby Kit and use it to make his rocket at home. Purchase your rocket kit where they sell Scout Stuff.
Race Rules
Only basic materials supplied in the kit may be used.
The rocket body may be no longer than 7 inches, not including the propeller and fins.
There are no restrictions on the weight or design of the rocket.
The nose cone (propeller assembly) must not be glued in place on the nose of the rocket.
A notch or groove should be formed in the tail of the rocket to seat the band holding dowel.
The band holding dowel must not be glued in place.
Registration
There is no registration fee for this event.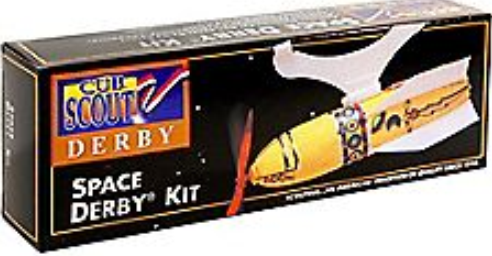 | | |
| --- | --- |
| Page updated 11/16/15. | |