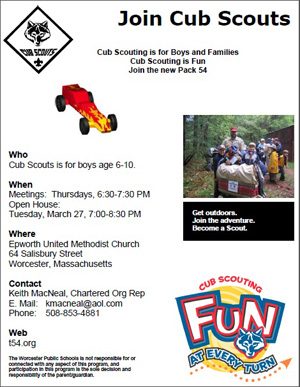 Tuesday
March 27, 2012
7:00 - 8:30 PM
Epworth United Methodist Church
You may see our flyer coming home from your elementary or middle school in March. This is that event! It is your chance to visit with us to learn all about Cub Scouts and how your family can have great fun participating in this worthwhile activity.
Pack 54 will meet on Thursdays after this. We are holding our Open House together with Troop 54, which meets on Tuesdays.
We plan to have the Boy Scouts run some fun activities for our potential Cub Scouts while the parents find out about the program.