Pack 54 Dens
Which Den
Cub Scouts are generally organized by school grade level.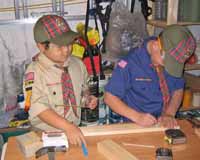 Cub Scouts working on their Craftsman Activity Badge during a den meeting.
Den
School Grade
Lion
Kindergarten
Tiger
First Grade
Wolf
Second Grade
Bear
Third Grade
Webelos
Fourth Grade
Arrow of Light
Fifth Grade
Annual Transitions
The folowing transitions are expected to take place each June:
Lion Cub Scout becomes a Tiger Cub Scout
Tiger Cub Scout becomes a Wolf Cub Scout
Wolf Cub Scout becomes a Bear Cub Scout
Bear Cub Scout becomes a first year Webelos Scout
Webelos Scout becomes an Arrow of Light Scout
An Arrow of Light Scout "crosses over" to Boy Scouts. For a boy who has earned his Arrow of Light Badge, this is expected to take place in March, provided the boy is at least 10½ years old. A boy can also cross over to Boy Scouts any time after he is 11 years old . Otherwise, this transition takes place after the grade 5 school year ends (in June).
Webelos or Arrow of Light
The Scouts in 4th grade and 5th grade are called "Webelos Scouts".
The 4th grade den is called the "Webelos Den".
The 5th grade den is called the "Arrow of Light Den".
| | |
| --- | --- |
| Page updated 10/2/16. | |