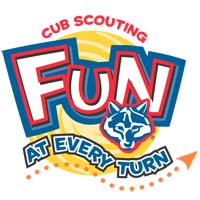 What Cub Scouts Is
Cub Scouts is the Boy Scouts of America (BSA) program for young boys.
In Cub Scouts, boys belong to a small group called a den where they take part in interesting and meaningful activities with worthwhile friends. In the den, they learn sportsmanship, good citizenship, and loyalty; they learn how to get along with others, and how to do their best for themselves and their den. Cub Scouts also belong to a pack, which is a larger group made up of several dens.
Generally, each den (Tiger through Arrow of Light) will meet 4 times a month:
Two den meetings where boys meet in the traditional setting and complete parts of the advancement requirements.
One field trip to go see something related to an achievement or just to go have fun as a group.
One Pack meeting where all the dens meet and celebrate the boys' achievements. The Pack meeting can be a fun event or trip.
Fun
Activities in the dens and in the pack are geared to the ages of the boys, with lots of physical action and exploration. In the dens, the activities are organized around advancement, using meeting plans provided by the BSA. Pack activities are organized around monthly themes provided by the BSA. These can include races like the Pinewood Derby (making those little cars can be a den activity). The Pack can also go on campouts.
Advancement
Advancement encourages the interests of a boy in a natural way. It provides fun for the boys and teaches them to do their best. Badges are awarded to recognize advancement. Boys like to receive and wear the badges, but the real benefit comes from the worthwhile things they learn while following the advancement trail. The boys are awarded their achievements at pack events so that they can take pride in their accomplishments.
Video
Words to Live By - Watch this fun video to get a better idea about what Cub Scouts is about.
More Information
Visit the BSA website for more information about Cub Scouts.